PRODUCT INFORMATION
WRiTE BRAiN BOOKS are illustrated, wordless books with lines on the pages, ready for writers (ages 5 to 105) to create their own stories. All of WRiTE BRAiN'S products feature the work of emerging artists whose illustrations were handpicked for their powerful imagery and open-ended visual narratives, for which young authors create written narratives. The art has enabled WRiTE BRAiN BOOKS to create a small and mighty product line featuring FIVE products that include multiple styles of wordless books, published author's kits, story mats, story card game packs, and story puzzles.
On the education side, WRiTE BRAiN BOOKS offers the only standards-aligned, narrative and creative writing course in the art of children's book authoring for students K-12 in America. Our books and programs are already being successfully implemented in 38 states, reaching over 40,000 students. WRiTE BRAiN BOOKS has produced over 25 videos. View our videos on VIMEO.
WRiTE BRAiN BOOKS provides digital and hardcover publishing options that enable all authors to share their work. Anyone can visit the website and author a book instantly and FOR FREE as well as publish instantly using a credit card.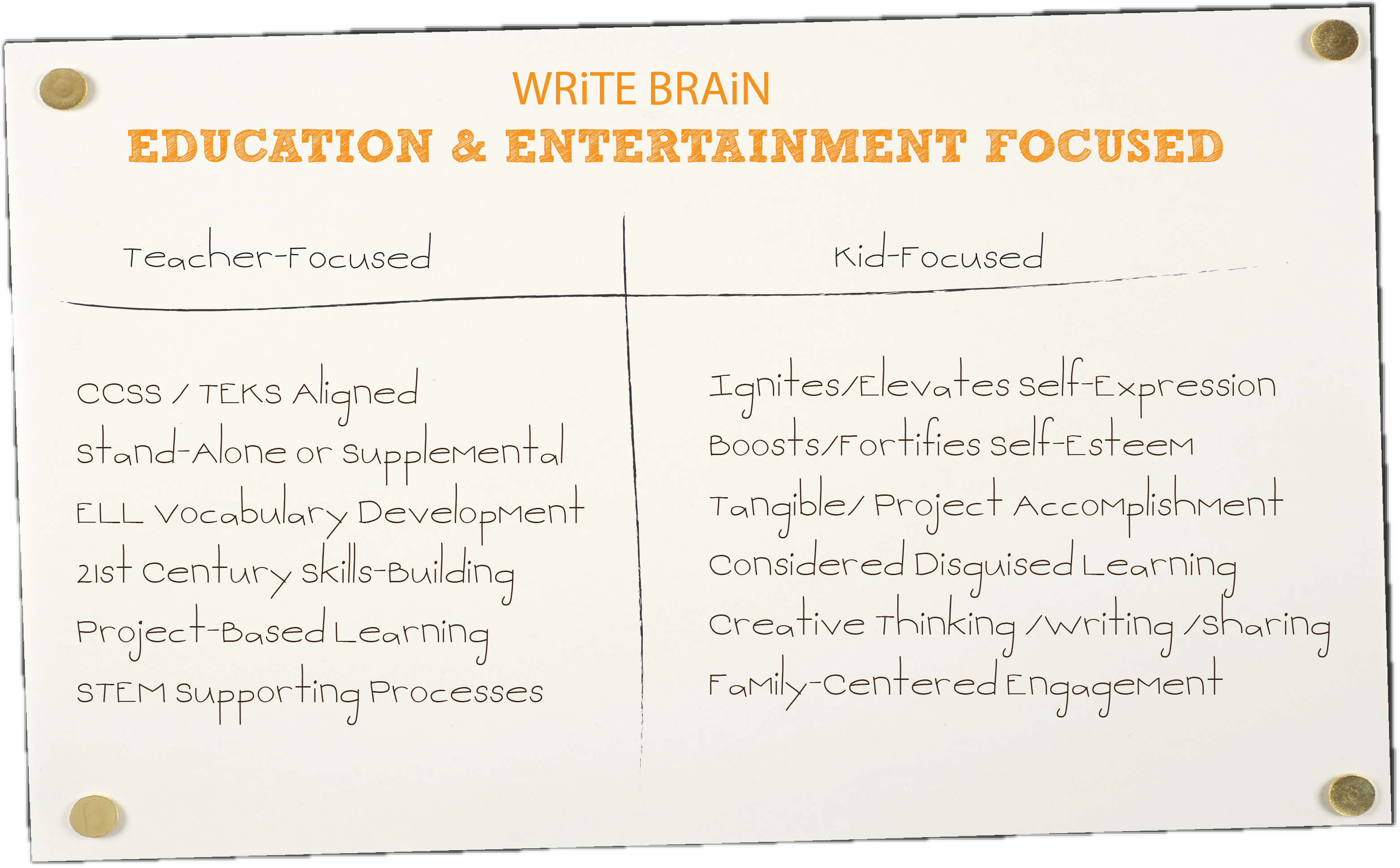 TESTIMONIALS
"As the 2015 NJ State Teacher of the Year, I take my role in elevating students' education very seriously. I am a tough critic of curricula and instructional strategies implemented in our classrooms. I am not inspired by most of what educators are required to teach these days. I think it's quite possible that the WRiTE BRAiN BOOKS K-12 curricula is a perfect supplement to literally any literacy program, and an excellent stand-alone program where one is needed. When implemented with fidelity, Write Brain is the vehicle to ensure student engagement, ownership, and academic achievement. I believe that this curriculum is the missing link in education as a whole."
Mark Mautone, 2015 NJ State Teacher of the Year
"WBB is, HANDS-DOWN, the BEST literacy curriculum available for our youth. Notice I didn't qualify that statement with "afterschool." It is beyond exceptional for afterschool programs, but is just as powerful and dynamic in the in-school, classroom learning environment. The positive impact of this curriculum for students, educators, parents, and communities is off the charts!"
Brent Cummings, 21st CCLC Program Director, Walla Walla Public Schools
"In the United States there are currently about 28 million children who are participating in structured, publicly and privately funded, after school programs, who attend every day. That is 91 days of additional learning opportunities these kids have."

"Write Brain, I am absolutely confident, can make all the difference in helping these kids succeed, improving the quality of programs of learning, and can take us to the next level. It's about collaboration...about students learning to work together in valuable ways. It's about unleashing the creativity that all young people possess, but which is often stifled due limited opportunities to express themselves in ways that are meaningful and relevant to them"

"I know it is going to change the world!"
Dr. Andi Fletcher
"When you ask kids to use their own voice, and ask them to speak for themselves…what they are willing to share. The things that kids will say when you ask them and take the time to listen is extraordinary."

"We won't get there with a culture of one right answer."
Diana Laufenberg, Educator
"One picture, one image, can evoke and inspire anybody to write a story, and to have a WRiTE BRAIN book to facilitate that, would be a gift."
Ruby Fuller, 6th Grade Teacher
"Slow process is where important things happen: judgment, empathy, reflection, and values."
Robin Lithgow, Former Head of LAUSD Arts Program
"There's no wrong, there's no 'you failed' when you're writing a Write Brain Book. It's always, 'it's your book, your creation, you did a really good job'."
Stella Chesnut, 10-year-old Write Brain Author
"If you offered them tomorrow the opportunity to work on another WRiTE BRAiN BOOK or play a computer game, I believe the vast majority of kids in this room would choose a Write Brain book, and I see that as kind of miraculous!"
Monique Marshall, 2nd Grade Teacher
PRESS COVERAGE
VIEW The Sun Chronicle 2017 Article - New Student Authors at Plainville Elementary!
VIEW NAA.org Fall 2015 Article - Meredith Scott Lynn - Voice in the Field
VIEW Academy of Art News 2015 - Creating Lasting Memories Through Creativity
VIEW Book Trib 2016 - How Days of Our Lives' Meredith Scott Lynn is Helping Children Become Published Authors
VIEW Soaps in Depth The Write Stuff
VIEW EverythingLubbock.com October 2016 Article - Lubbock-Cooper ISD Students Become Published Authors
VIEW Chattanooga's boys and girls club November 2016 article - Kids become published authors in after-school hours!
VIEWNational AfterSchool Association's Professional Development Newsletter- Tangible Evidence
VIEWNational AfterSchool Association's Professional Development - Finding Their Voice: Why Kids Should Journal
VIEW The Sun Chronicle 2017 Article - Wood School fourth-graders turned authors meet their publisher
VIEWRichland Boys and Girls Club WRiTE BRAiN Book Reading at Sidney Library
TELEVISION & IN PERSON APPEARANCES
VIEWHallmark Channel - Home & Family Interview with Actress & WRiTE BRAiN CEO Meredith Scott Lynn
VIEWNBC Orlando WESH channel 2 - Interview with Meredith Scott Lynn Founder & CEO
VIEWNBC Atlanta channel 11 - Interview with Meredith Scott Lynn Founder & CEO
VIEWNAA Conference - WRiTE BRAiN Founder performs her original after-school RAP at general session
VIEWNBC Houston Channel 2 - Interview with Meredith Scott Lynn WRiTE BRAiN Founder & CEO
VIEWNBC Indianapolis Channel 13 "Eyewitness News" - Interview with Meredith Scott Lynn WRiTE BRAiN CEO
VIEWHallmark Channel - WRiTE BRAiN's CEO Returns for Home & Family Segment