Write Brain Store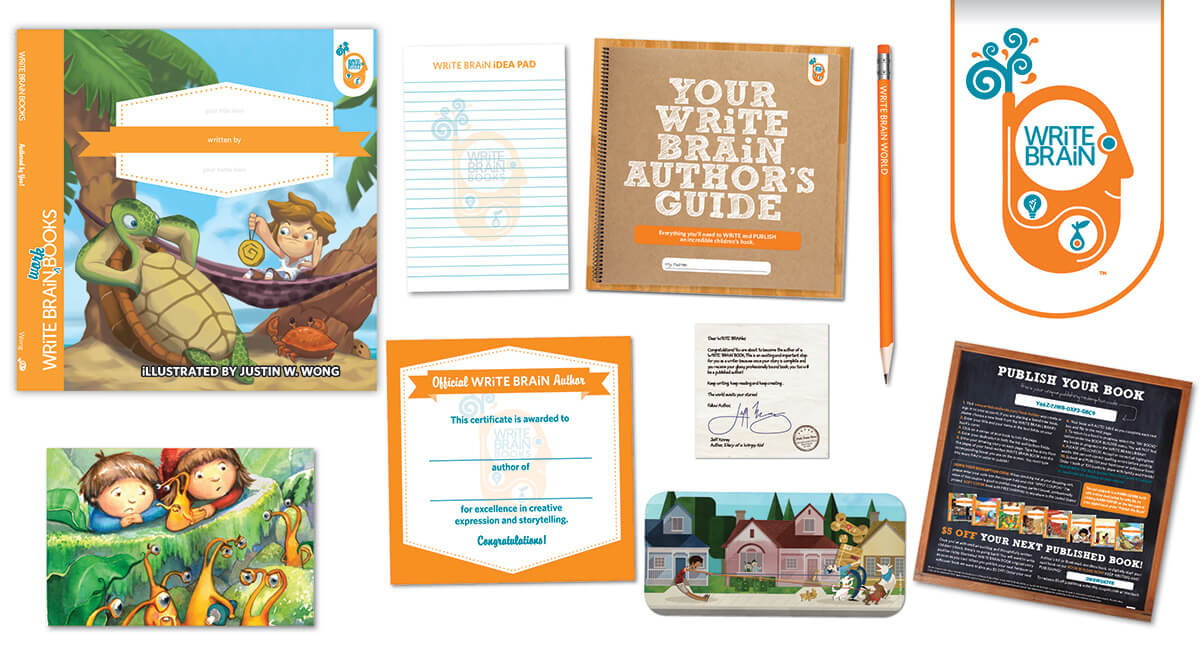 PREVIEW BOOK
Wong
Author's Kit (For Ages 5 - 105)
Illustrator: Wong, Justin

The WRiTE BRAiN Author's Kit, comprises everything any young person would need to become an author of their own, original children's book, which is published and shipped to their door! It's an exciting, imagination generating experience that makes kids of all ages (and even their parents) WANT to write! Currently shipping is not available outside the continental United States.
$ 49.99
FLAT RATE SHIPPING $4.99 for all purchases including more than one author's kit
Author's Kits Details
Kit includes:
One richly illustrated, wordless book with lines on the pages for any author's original story.
Published book, softcover perfect bound copy of your story! You have the option to upgrade to hardcover publishing on our book builder when you upload your story. You will receive your published book in the mail after you upload your story to our book builder.
One Coupon with unique publishing code for a professionally printed, perfect bound, published final book with author's photo and bio in back.(A 9.5" x 9.5" softcover, sewn perfect bound book with glossy dust jacket.)
Author's Guide (A complete guide to authoring your own book, your guide is a fun and inspiring set of suggestions and tools for every WRiTE BRAiNer.)
Illustrated Story Card (A large flash card with a colorful image and ten exciting writing games for individuals and groups.)
Illustrated Story Mat (An 11x17, art poster with prompts for short, inspiring writing experiences.)
Official Author's Certificate (Every writer becomes an official author when they create and complete their imaginative story.)
Note from Author Jeff Kinney (Diary of A Wimpy Kid)
Idea pad (A note pad for your every inspiration and draft.)
A coupon for $5 OFF YOUR NEXT BOOK.
Lead free pencil (It's WRiTE BRAiN orange on the outside and pure pencil goodness on the inside.)
WRiTE BRAiN BOOKS are Printed in the USA.
Related Products